The ONLY true coloring book experience on iOS — Pigment 1.0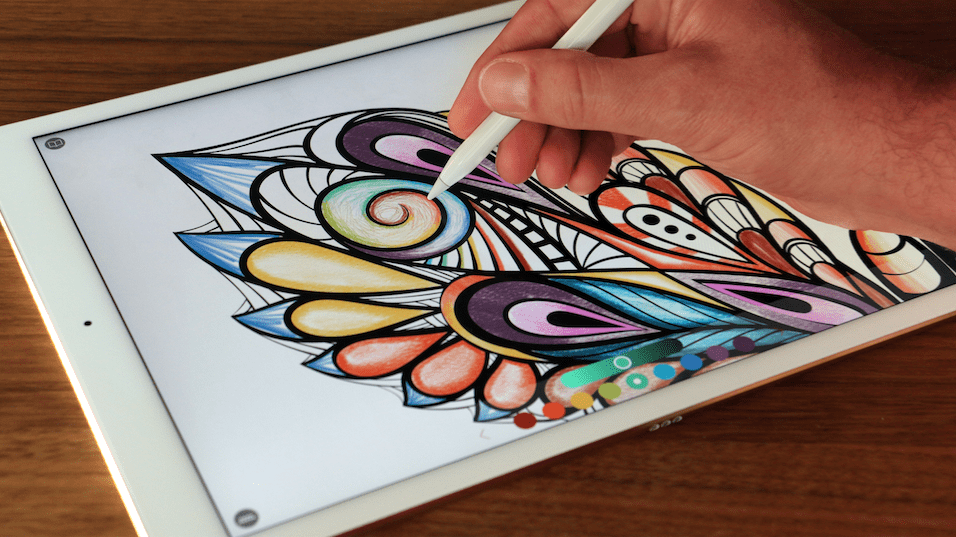 December 17, 2015 — San Diego, CA — Pixite LLC announced today the release of Pigment 1.0 for iPhone and iPad. With built-in support for Apple Pencil, 3D touch, and a wide assortment of coloring tools, Pigment is the only coloring book app to support freehand coloring, and is the closest thing digitally to coloring on paper. Pigment also stands out with its hundreds of hand curated, professionally drawn illustrations, 8 different kinds of pencils, markers and brushes, and an unlimited number of colors to choose from.
Research has shown that coloring and doodling on paper have substantial therapeutic effects by lowering stress and anxiety, and improving relaxation and concentration. By allowing artists to color using strokes of their finger, Apple Pencil, or a third-party stylus, Pigment can offer those same therapeutic effects on the iPhone and iPad. In fact, Pigment is the only coloring book app that allows freehand coloring, while the rest of the apps are tap-to-fill.
By varying the strokes, the coloring tool, and tool characteristics, each piece of artwork takes a life of its own like never before. The size and opacity of the tools like the colored pencil can always be adjusted using the intuitive onscreen controls. 3D Touch enabled iPads and iPhones, and the iPad Pro with Apple Pencil take the controls to the next level by allowing the user to change the opacity using pressure. Using the Apple Pencil, the user can even control the shape of the tip by changing direction and tilt. The outcome is the most realistic coloring experience on a digital device.
Color selection is often a challenge for the coloring book artist, especially when there is an unlimited number of colors to choose from. Pigment's innovative approach is 14 hand selected palettes of 9 colors, with a shade control for each. The palettes offer a cohesive combination of colors, a great starting point for anyone. In addition, by using Pigment's shade control, artists are able to select any shade of any color in the palette instantly. Not only does the shade control save time in selecting similar colors, it lets the user access an unlimited number of colors in the simplest way possible.
Although coloring is often done to fulfill personal needs, Pigment also makes it easy to share work with friends and family. The available sharing options are email, SMS text, Facebook, and other social networks.
Pigment is a free app with an optional subscription to the Pigment Premium Access service, the key to the entire library of 200+ professionally drawn illustrations and updates to new books. Premium Access also unlocks the saving of non-watermarked, high-resolution images of artwork, up to 4096×4096 pixels.
Features
Pigment is the only coloring book app that lets you color in without tapping-and-fill 200+ professionally illustrated works to color 8 kinds of coloring tools — colored pencil, marker, paint brush, fill, airbrush, circle brush, linear gradient, and radial gradient
Fully supports finger, Apple Pencil, and third-party stylus input
Unlimited number of colors using the professionally curated palettes and the innovative shade control
App Details
Supports iPhones and iPads running iOS 8 and above
Free universal app with in-app subscription
App Store page: https://itunes.apple.com/us/app/pigment-only-true-coloring/id1062006344?ls=1&mt=8&pt=14691&ct=medium&at=11l4HQ
Links, Photos, and Screenshots
COMPLETE PRESS KIT including images below: https://www.dropbox.com/sh/hytk6qvtbox61f2/AADebYRU3doRga8DGwW8csI3a?dl=0
Website: http://pigmentapp.co
Video: https://vimeo.com/148680379
Download: https://itunes.apple.com/us/app/pigment-only-true-coloring/id1062006344?ls=1&mt=8&pt=14691&ct=medium&at=11l4HQ
Twitter: https://twitter.com/pigment_app
Instagram: https://www.instagram.com/pigment_app/
https://sdtechscene.org/wp-content/uploads/2015/12/Pigment-iPad-Pro.png
537
956
admin
https://sdtechscene.org/wp-content/uploads/2019/05/SD-Tech-Scene-Logo-2019.png
admin
2015-12-17 06:59:49
2015-12-17 16:25:04
The ONLY true coloring book experience on iOS — Pigment 1.0