The Web App Masters Tour in San Diego (March 23-24)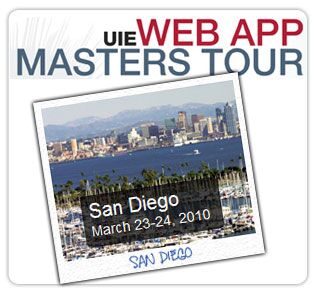 User Interface Engineering
is the host of a brand new conference coming to San Diego on March 23-24:
The Web App Masters Tour
. We've arranged for a special discount for our members, plus a free book!
Normally, the price of the event is $995. But if you use the promotion code REFRESHSD when you register, you'll get a $100 off. You also get a PDF book of the best articles written by User Interface Engineering on web application design.
About the Conference
Luke Wroblewski of Yahoo! on web form design
Julie Zhuo sharing Facebook's design process
Bill Scott of Netflix on design patterns
Stephen Anderson on seductive interactions
Ken Kellogg describing Marriott's web site new redesign
Christian Crumlish on designing for social interactions
Doug Bowman sharing how Twitter gets people engaged
Hagan Rivers on web app navigation techniques
Jared Spool sharing UIE's latest research on how teams succeed
The conference delivers insights from 9 masters on web app design. These folks are the world's greatest in web app design.
You'll be immersed in the most intense discussions, dealing with everything from coping with complex navigation to integrating social components. You'll learn about the newest web app design patterns and how to entice your users to try your latest functionality.

The Details
WHAT: Two-day inspirational web app design conference
WHERE: San Diego, CA
WHEN: March 23-24, 2010
COST: $895 (when you register with the promotion code REFRESHSD)
WEBSITE: http://bit.ly/6sMosG
To take advantage of the $100 discount and the free book of articles, you must register before March 17. Get all the details about the conference at http://bit.ly/6sMosG
https://sdtechscene.org/wp-content/uploads/2019/05/SD-Tech-Scene-Logo-2019.png
0
0
Phelan
https://sdtechscene.org/wp-content/uploads/2019/05/SD-Tech-Scene-Logo-2019.png
Phelan
2010-03-07 10:30:47
2010-03-07 10:30:47
The Web App Masters Tour in San Diego (March 23-24)